Fighter contract update
We thought this may be of interest to some here in terms of the work behind one of the big(ger) changes coming in the next update and that is currently being tested.
Fighter contracts are now working slightly differently. Again for reasons of both enhancing realism and improving game play.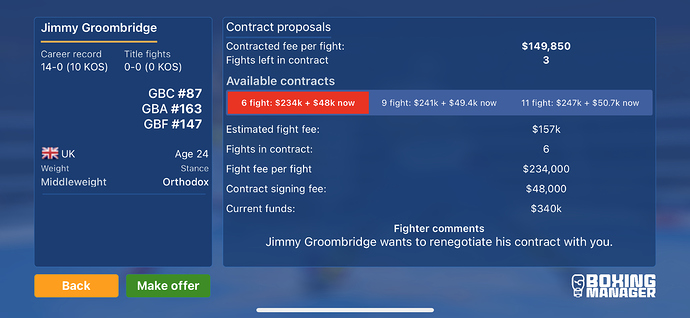 Firstly, when signing a new contract or renewing an existing one we now employ a different mechanism to achieve this.
This results in the new value being one that approximately the fighter reaching halfway in their contract, earlier if matched aggressively upwards. This allows for a more realist flow to the game.
It also allows us to start offering an ever greater and more complex array of contract options. We have started by simply increasing the number of contract presets from two to three with more changes to follow with more player feedback.
It also allows us to remove the loathsome "Match Guaranteed Fee to Current Estimate" button.
It also stops the fighter from refusing to fight when offered a fight unless their fee was matched or renewed.
We have tested many variations on this to solve this and think this does as well as make for a much better flow of money in the game overall.
Every penny/cent that the manager earns in the game should feel worth it.