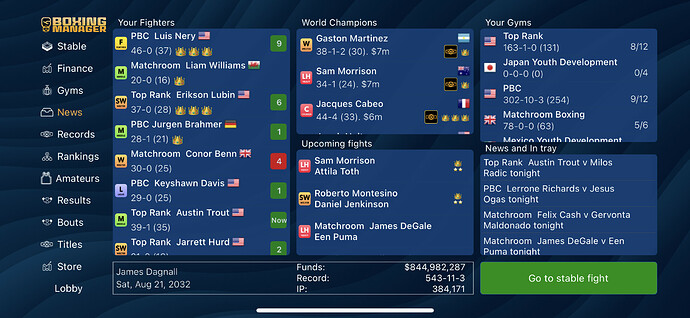 As you can see in the picture above, some of them fighters names look familiar right? How about the gyms?
I've been laying my saves out recently to get a more realistic vibe, using my gyms as real life promotional companies and the fighters that come through as real life fighters that have a similar style to those in real life and matching them up with their hometown, height etc.
Just a little idea if you want to make your games more real it certainly made it alot more fun for me!
A good way is to have what promotion (Gym they are signed with) as their first name and then the 2nd name being the full fighters names, a nice easy way to track who can potentially face who when planning future match ups.
It also adds a little something when you see a fighter come through then for example I'm waiting on a nice little 5'6 featherweight from Baltimore to come through so I can get Gervonta Davis into the mix!
Honestly if you haven't tried it, give it a go sometime, the heartbreak when it's one of your real life favourites and they take an L!
I managed to get a lovely Josh Taylor regen on my previous save and he lost when he moved up to fight Bud Crawford, I was in pieces! Remember also, if you change one at the start for example your Scottish regen is now called Josh Taylor but he's taken a L in his 10th fight! JUST CHANGE HIS NAME TO ANOTHER FIGHTER AND PRETEND IT WAS RICKY BURNS ALL ALONG