There's probably no contenders who're eligible to fight for all of the belts. Vacate the WBC and try again. If still no one, vacate WBA and see. There will be someone.
You could also go to the Titles page and see who's eligible to fight for your belts
I don't see option for vacat belts
I'm guessing you're on Android. On apple it's different. Looks like there's a relinquish title option. Maybe that works.
Maybe some Android users could help you, too. Sorry mate
On first screenshot you can see, what is showing me when I go to reequish option. Like nothing. ;d
Hi there,
I'm the Android Developer. There is certainly a bug at play here preventing the buttons from spawning in the Relinquish Title popup. I'll investigate the cause of this and publish a fix as soon as possible. Can I ask, has this fighter ever relinquished a title before and which one was it?
I am having the same issue as well and im on android. Finally won the title and now i cant defend it.
I finally get chances to defend title. And yes, that was issue here, opponents was to low in rank. Anyway, I never vacate title, there is no option for that as when I press requilish title there is not showing anything else. Also, others champion is very low in rankings of others alphabet bodies so is no chance for fully unification
Hi there,
Is your issue a lack of contenders to fight and/or are you also experiencing this bug where you cannot relinquish a Title? If you are experiencing the bug where you open the relinquish title popup and no buttons are being displayed, could you provide me with a screenshot please?
Thanks for the Info! I am working to fix the Relinquish Title Popup ASAP. Please bare with me.
In general yes, lack of contenders is problem. This fighter has got 3 alphabet body titles and to meet required opponent he has to wait several weeks.
Here is screenshot with option of vacat title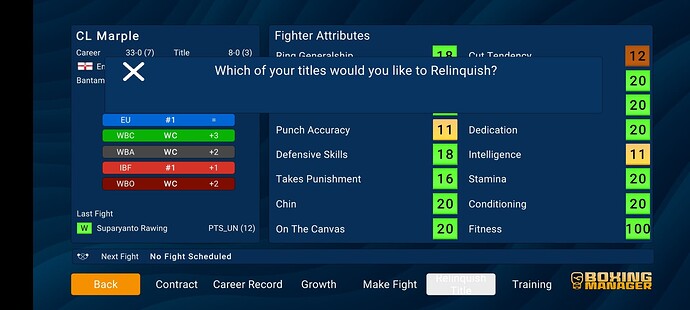 Hi there, do either of you have other fighters with world titles? Are all of your fighters unable to relinquish titles or is it specific Fighters? I've been working on this but for some reason I'm having trouble replicating this. Any details big or small you can provide would be much appreciated.
I have 2 unified champions. First one have won 3 belts and there is no chance to vacat any from them. Also it's seems impossible to have fully unification as another champion is very very low in rankings of other alphabet bodies. Second my champion got 2 belts and I can vacat his titiles.
Btw, are you open for ideas/suggestions what else can be add/change etc? In past I was playing online in game like 'boxing promoter' and there was massive base of fighters (obviously generate names, not real), lot of different countries, weight categories, regional titles, country titles, continental and world titles, venues to book, sign fights to fill arenas bases on how popular is each fighter in country or region, TV rights contracts. I don't know if going that way gonna be too much or is possible.
Full unification is just as rare in real life. It's something that we think about a lot but ultimately we've decided to keep it as is. However, we do have a system in place whereby unmanaged fighters will vacate their title eventually if they have not had a fight in a long time. Could you show me the Career Record screen of a Fighter that has held on to his title without having any fights for a while? If so, then it's bugged and I'll take a look at fixing that too.
As for the feature suggestions, we are happy to take on board any suggestions. In fact, many of these are already being worked on for iOS or have been added already. Admittedly, Android is behind iOS. You can't just duplicate the app, we needed to remake this from the ground up for Android. So, it's going to take time for us to catch up. So while almost everything you suggest has either been implemented in iOS or is coming soon, that means they are very possible but long term goals here for Android as well.
Hi there, the newest version of the game (0.887.31) should allow your Fighters to relinquish their Titles now. If the version isn't available to update to yet, give it an hour. If you still cannot relinquish titles for any of your fighters, do let me know. This version should fix the bug though.