My best ever boxer has finally been defeated after 70 fights and 47 title fights!
Image|690x318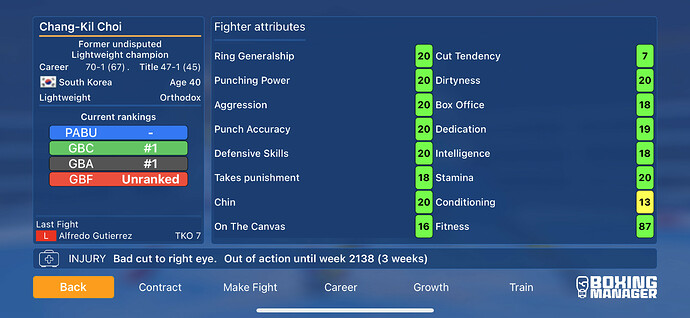 Great achievement. Be interested to see how long he keeps going. Lots like there's plenty of life left in him.
That's a great record. He can still win way more as well. 20 chin at age 40, damn!
Just a wee reminder that you can edit those title names to the real ones on the Titles screen. Edit them to WBC, WBA and IBF if you want them in the correct order. Or ignore if your not bothered about that kind of thing😎
And on the topic of title names and titles in general we have a nice addition coming very soon in that particular area…

Good stuff. Look forward to checking that out. Though new job has curbed my playing times. The furlough good times are over

Downer. Still there's always Lockdown #3 or 4 whichever it is to look forward to. This new feature will help out with that.

If the country survives this current Scottish invasion to London, then another lockdown ain't happening