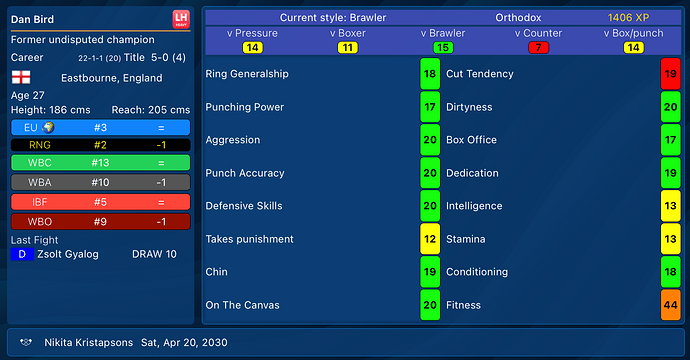 Signed him at age 21, became the undisputed Middleweight champion within three years.
Defended the title 4 times, 3 times he won by TKO in an early round. He was 15th OAT at that point and set to go higher.
After the last defence, nobody was eligible to fight him for 2/3 months, and he starts threatening to cancel his contract because I'm not letting him fight. I chose to move him up to LH instead of vacating the titles.
He goes into LH #1 ranked for all titles, but keeps threatening to cancel so I set him up with a lower ranked fighter instead of waiting for the champion.
He loses that fight and can't contend for the titles anymore. So I give him a match for the European belt, and he barely scrapes a draw.
This guy still has 13 potential, so I don't want to lose it all by setting him up to lose, but I also don't want to have him waste his career when he could be a champion. Is it possible to get him to drop down a division or something? How do I get XP for him so that he can compete in LH?