Good stuff mate. Always nice getting an undisputed Scot in your game. Makes it realistic


And welcome to the forum.
Yeah I love finding great Scottish fighters makes it better for me, and thanks man really enjoying the game so far
You will like this one. I was just about to start a new game when this guy just came through. Need to carry on now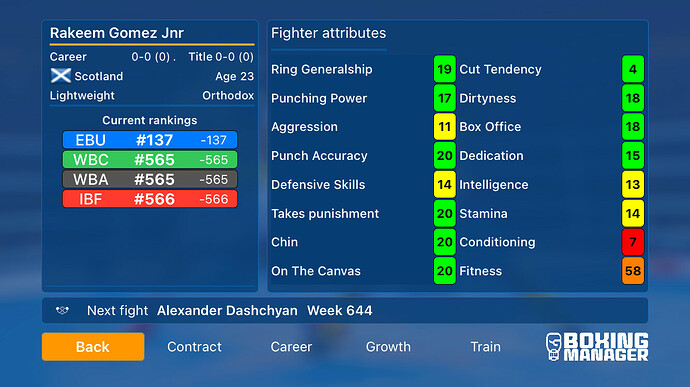 The weights are updated for the next update.
Scottish/Welsh/NI/Eng weights etc now proportion to reality not a generic type
Mmm that's really interesting. Curious in what way. This how I would see it…
England: Heavyweight, Light Heavy and Middleweight
Wales: middleweight and Light Heavyweight
Scotland: Lightweight and Welterweight
NI: Bantamweight and Featherweight
Just really going by the best ever from each country and current champions. This would also mean having a UK gym would allow you to cover much more weights at a high level than currently.
He looks absolutely class maybe a new josh Taylor

some find mate!
He won the undisputed lightweight title in his 12th fight (I matched him against one of my own high ranked Lightweights so he climbed the rankings quickly). So he is actually a bit ahead of Josh. Not by my much though

Ha awesome. Iv had a Josh Taylor as well. Not as good as that one though. If you scroll down there is a thread titled 'real boxers name'. Post that in there if you like