Great response and we're already over-heated at the thought of this one again.
Haha Iv watched that way more than I should have. Just brilliant.
It's a good one and never gets boring.
So who you all got on this one? Anyone giving Wilder a chance?
I think it will be another Fury destruction job personally. Just don't see what Wilder can do with a problem like Fury.
Just hope this time Wilder and his fans can accept defeat like men. Although I do think the whole cheat allegations is more an American racial thing than anything to do with boxing.
I saw a YouTube video in which someone was arguing he (Tyson Fury) was landing palm strikes in the previous fight. I'm not an expert in that. But, Interesting.
In the next fight I have a feeling that Wilder will surprise him. Hard to imagine after the second fight, but I think there is something different about Wilder this time.
Oh Iv seen those videos. Most seem to be from LDBC who have an agenda for sure.
Fury fights dirty. No doubt about that. But loaded gloves, spiked water, cmon man. The excuses are ludicrous. Anyone level headed watching that fight can see he was just the superior boxer.
Anyway I'm still looking forward to it. Wilder has done a good job of hyping it up and getting people believing in him again.
Agree.
But…the palm strike claims…I'm not sure. Difficult to know.
Thing is, all boxers gloves can flop. And those videos are actually from the first fight. Which no one complained about at the time because Wilder kept his belt. It's major grasping at straws which has grown legs. He just got beat by a much bigger and more skilful boxer.
I think I know the claims you refer to. But the palm strike claims are not about the floppy glove. I think his hand was in the glove properly.
Anyway. Next one will be a good one I think.
I hope so mate. How great is it that Heavyweight boxing is so interesting again. I think the overall popularity of boxing really suffered during the Klitschko era.
Yes. Boring. Now there is real drama - shame they don't fight more often.
This is so funny. I don't usually find Fury funny - but this was hilarious.
I can't see anyone beating Fury, but I fancy Wilder knocking Fury down a couple of times but Fury to stop Wilder with accumulation.
Have to say, I right enjoyed yesterday's Press conference. Especially Bob Arum going off on one.
If anyone hasn't seen this…. Comedy gold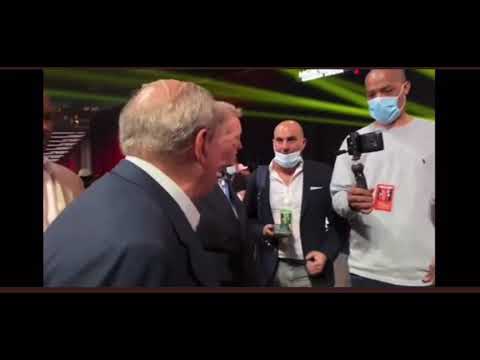 That's a good one as well!
All the freaks are out for this one!
Think we need a quick who will win poll later today
Aye good shout. Still not sure whether to set my alarm or do an all-nighter for this one. Scotland international and Smith Fowler on the Saturday as well. It's a potential messy affair!