So I've played this game for years now, and this save I've really had the best two fighters who have dominated their whole career, I can't decide who's had the better career.
Feel free to give your opinion.
————————————————————————————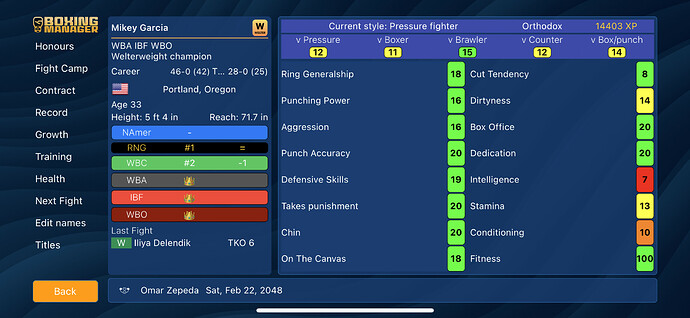 Mikey Garcia
5'4
Record 46-0(42) 28-0 Title Fights
5 Weight World Champion
Undisputed Featherweight Champion
Undisputed Super Featherweight Champion
WBO, WBC Lightweight Champion
Undisputed Super Lightweight Champion
Reigning WBO, WBA, IBF Welterweight Champion
(Legends defeated)
Defeated Stephen Fulton 39-0
Defeated Jiagui Lui 22-0
Defeated Gary Russell Jr 22-0
Defeated Victor Ramonetti 14-0
Defeated illya Sinitsen 25-1
Defeated Juan Manuel Marquez 42-0-1
Defeated Juan Manuel Marquez 47-1-1
All of those men are multiple weight world champions and are in the Hall of Fame or will be inducted no doubt. There is more HOFs he's beaten but they didn't have incredible records when beating them like this lot. He has a purse of roughly £30,000,000 which is crazy for a welterweight, he has the highest grossing fights in all weights he has fought in.
———————————————————————————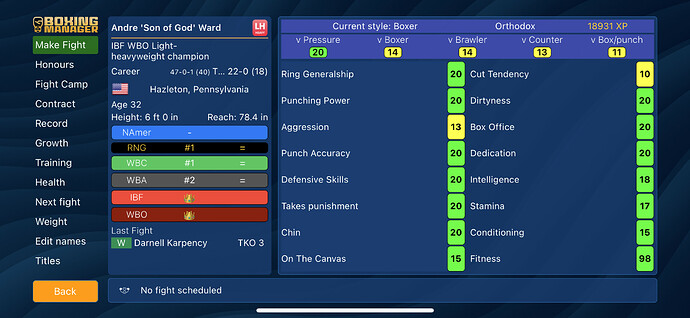 Andre 'Son of God' Ward
6'0
Record 47-0-1(40) 22-0 Title Fights
Olympic Gold Medalist
Undisputed Light Heavyweight Champion for nearly 50% of his career.
(Legends defeated)
Anthony Yarde 38-0
Kyle Brown 29-0
Zhanat Prisanyuhuk 22-0
Sergey Derevyanchenko 33-0
Sergey Derevyanchenko 33-1
Kyle Brown 36-1
Sergey Kovalev 31-0
Kyle Brown 42-2
Andrew Tabiti 36-0
Caleb Plant 39-1
And at his old age now he just defeated the biggest prospect on the save in undefeated Cesar Alan Mcreary 25-0
Literally hasn't lost a boxing match since he was 16 in the Junior Worlds. His one draw was a disgrace and he knocked him out in the rematch.
He's the biggest money star in boxing earning a whopping £45,000,000 purse per fight and has battled with Mikey Garcia as 1+2 in the Pound for Pound list for about 7 years.
There is a guy called Mirko Djuric who controls the cruiserweight division, undefeated and a gold medalist like Andre, if he goes up to secure the undisputed and 2 weight status would that then put him over Mikey? cause I kind of have Mikey edging it just for the fact he's moved through 5 divisions and hasn't even took easy belts, he's taken them from each divisions unbeaten top dog.
The thing with Mikey at the minute though is he's about to unify Welterweight for undisputed, I think he may be looking at 32-0 Austin Trouts belts at 154lbs then POTENTIALLY 21-0 Tim Tszyu at Middleweight. Surely 7 division is unheard of not even starting at flyweight? Can a 5'4 featherweight really go to middleweight?
Anyone I'm interested to know how people judge their goats, do you favour the multiple divisions or a 1 division reigning king. Both have beaten unbelievable opponents maybe just edging Ward because obviously unless you have witnessed the whole save you won't realise the magnitude of some of these wins.