He looks great. My last game save had a boxer undisputed at three weight classes though, so yours has a wee bit to go (the guy below)
Definitely move him up weight class. That's how legends are created.
Recently I had this guy, I just started a new game though so don't have a recent screenshot, but he moved up 3 weights and was 20-0 in title fights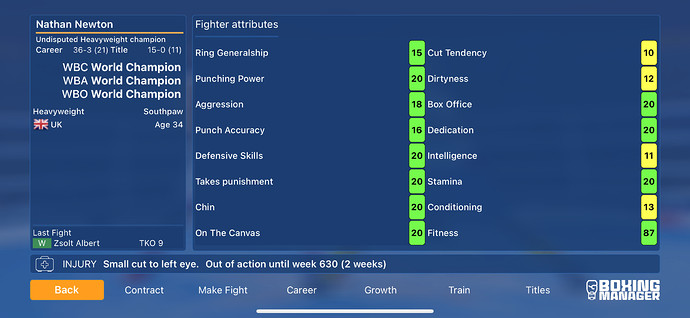 Update - now 52-0. Longest unbeaten record I've ever had. 1595 weeks in. Only reason he isn't undisputed champ is because I've vacated titles so he can get fights! Thinking of moving up another weight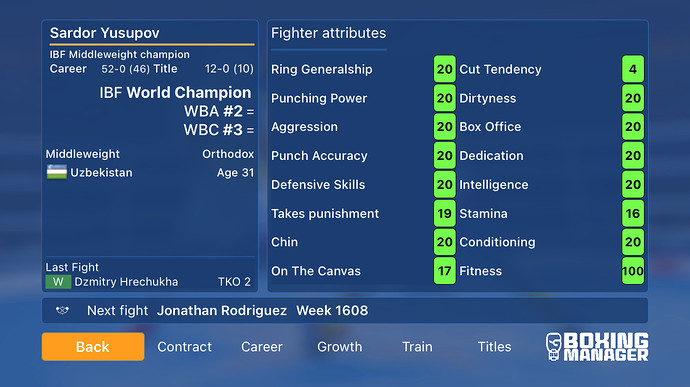 Your champ Gives me GGG vibes
He is a legend for sure but I'm more interested why you have IBF as your top belt


. It's hard to tell now as they are all a joke but traditionally the green WBC belt is the most prestigious.
Not really sure of my logic with that one lol, maybe just because it stands out more as the rest start with a W

you've made me want to change that now though!
Damn your fighter has all green attributes. That's a real life superman
Triple weight undisputed this guy made my gym tbh
Am i missing something? I cannot seem to get any fighter to level up. The training potential always kills me so i cant level up any fighter = no title shots. All fights that would increase my ranking are all under 50% win rate.
WHAT AM I DOING WRONG?!?? Aaargh
Those particular boxer must not have much potential. Just unlucky. Just the way it goes haha. You will get one with great potential soon I'm sure.
How do you sign a boxer with potential though? There isnt a factor to see their potential? My stable has had over 600 fights, probably around 30-40 fighters and not one has even got near a title fight that can be won. Theres just no seeming way of levelling up fighters to get greens on all their attributes
You're highly unlikely to get all attributes into green with all but exceptional boxers/circumstances.
If I was you I would think about staring a new game. Thats a crazy amount of fights without a champion.
If you start again, keep restarting until you get one very good boxer in your stable. Shouldn't take long. Once you have a champion the game completely opens up as you can sign a lot better prospects. Iv never had a new game where one of my original boxers hasn't ended up a champion so I think you have just been unlucky there.
Thanks for the advice dude. I kid you not, look at my stats. This is why i think im doing something wrong. I just cnt seem to level any of my fighters up enough to mke a chllenge for the top spots. Majority of fights are all 12% - 35% win rate, so no point taking the fight on so they end up going nowhere. I use the available xp and then it stops because theres not enough potential